Chetmani – The house of Solitaires & Diamond Jewellery in Varanasi
The word diamond comes from the Greek work "adamao" meaning invincible & indestructible. Solitaire symbolize strength, power, imagination, purity and love. Chetmani's excellence in Diamond & Solitaire Jewellery in Varanasi has been unparalleled. At Chetmani, Solitaires & Diamonds are carefully selected on their exceptional purity, sparkle and clarity. We are proud of our commitment to provide the finest and the purest Solitaire Jewelleries to our clients.
The catalogue of Solitaire & Diamond Jewellery at Chetmani includes Diamond Necklace Set, Diamond Collar Set, Diamond Pendants, Diamond Rings, Diamond Bangles & Cuffs, Diamond Earrings, Diamond Watches, Solitaire Rings, Solitaire Earrings, etc. We use different type of settings for Diamond Rings like prong settings, bezel settings, channel settings, etc. For Solitaire Rings we mostly use prong settings.
Make your special moments memorable with Chetmani – Diamond Jewelery Store in Varanasi.
Our USP's in Diamond Jewellery
See Our Other Collections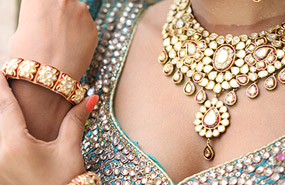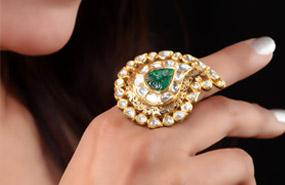 Silver Jewellery & Utensils
Get updates about all ongoing and upcoming offers at Chetmani Ornaments.