Silver Jewellery & Utensils
Silver has always played an integral part in the rich heritage of Indian culture. From utensils to decoration and from gifts to daily wear jewellery, Silver has often been considered as an auspicious metal. Many Indian Families use Silver Cutlery & Utensils as a part of the tradition during prime festivals or important occasions. These silver dinner sets usually includes a silver dinner plate, silver bowls of different shapes & sizes, silver spoons and silver glasses. Silver as a utensil has some healthy benefits like it's non-toxic, bacteria free, etc. that's why people often prefer feeding babies in silver bowls. People also prefer Silver Coins or Silver Bars for gifting purposes.
Chetmani has been providing finest Chandi Ke Bartan or Silver Cutlery in Varanasi. Apart from Utensils, our silver catalogue contains daily wear Silver Jewelery like toe-rings, bracelets, anklets, Silver Utensils, Silver Idols & Temples, Silver Coins and Silver Decorative Items for home.
Our USP's in Silver Jewellery & Utensils
See Our Other Collections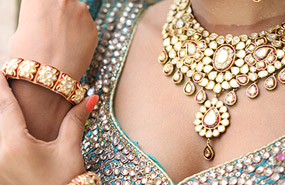 Get updates about all ongoing and upcoming offers at Chetmani Ornaments.