Chetmani – The house of Kundan Jewellery in Varanasi
Kundankari is a unique and one of the most ancient forms of jewellery style in India. Crafting Kundan Jewellery is a distinctive art which requires special expertise to carefully place the flat or uncut diamonds on the purest form of gold using lac and pure gold foils. This Jadau work requires precision to create a masterpiece which will be flaunted with pride for decades.
Chetmani Ornaments has been continuously thriving to keep the original Banarasi Kundankari & Meenakari work alive for younger generations to adorn the precious form of jewellery. Varanasi is renowned for the ancient form of Kundan Jadau jewellery. Chetmani provides a large catalogue of Kundan Jewellery in Varanasi to the customers who specially come to Varanasi for its ancient craftsmanship in this form of jewellery. The catalogue of Kundan Jewellery at Chetmani Ornaments include Kundan Necklace, Kundan Pendants, Kundan Bangles & Bracelets, Kundan Earrings and other Kundan accessories & art-pieces.
Our USP's in Kundan Jewellery
See Our Other Collections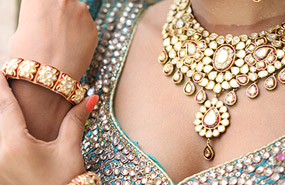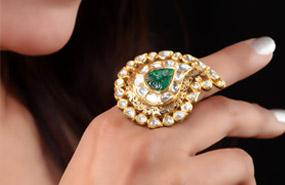 Silver Jewellery & Utensils
Get updates about all ongoing and upcoming offers at Chetmani Ornaments.